CHRIS NGIGE: The True Story Of My 2003 Abduction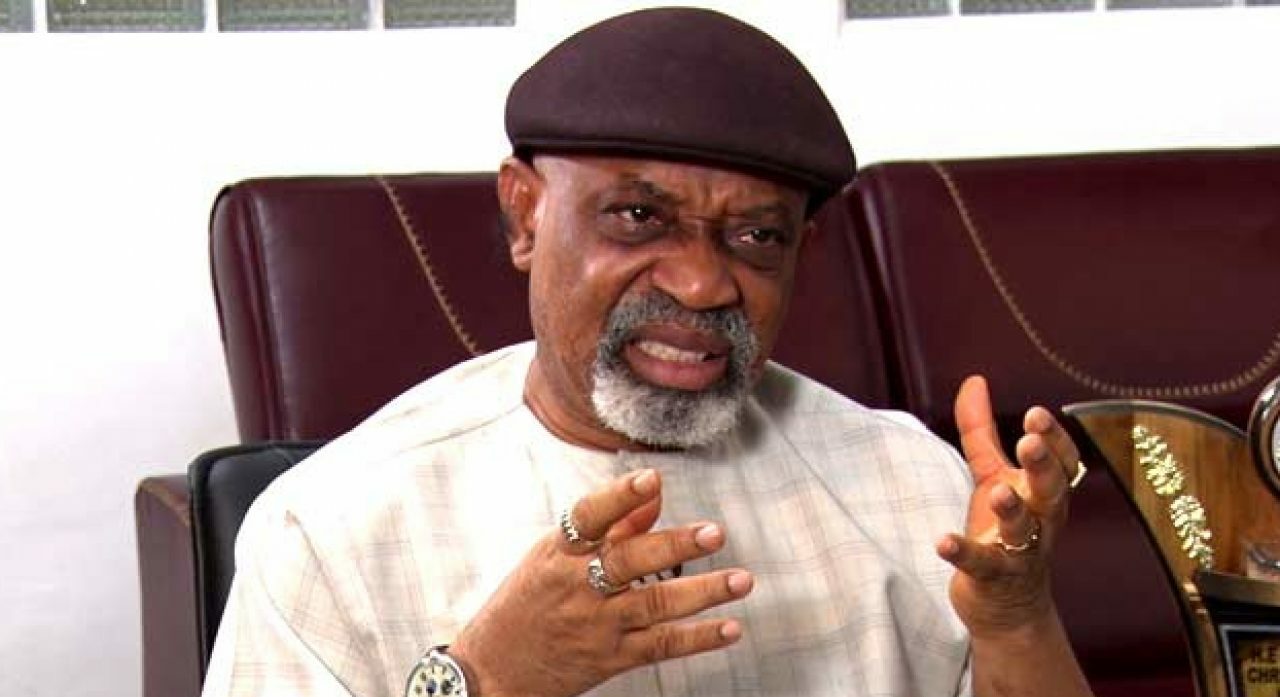 Minister of Labour and Employment, Senator Chris Ngige keeps unenviable record of being the first civilian governor to have survived what is best described as a "civilian coup" in Nigeria's political history, masterminded by a clique of high-handed godfathers. In this holds-no-barred interview granted to mark his 68 birthday, Ngige gave untold account of what truly transpired between him and his abductors during the nearly 12-hour siege in Awka, Anambra State capital. The minister also talked about APC's gentlemanly agreement on power rotation and his corruption fight at NSITF. Onyebuchi Ezigbo presents the excerpts:
What happened to you on July 10, 2003 and what lessons did you learn from the ugly experience?
The first thing that comes to mind each time I flash back is the maxim that everything that happens to a man is for a purpose is very correct. If you are a believer in God, you will know that even if suffering is inflicted on you, it may turn out for your own good. So, when July 10 came, I wasn't expecting it. I did not have any premonition. Even though I picked some intelligence reports but it wasn't clear.
Yes, I saw the body language of my supposed political friends, including my deputy governor but was unable to decode what it is properly. The nearest to decoding any was that I had what you can call a trail; that from the time I was nominated, to the main election, through the campaigns, I could figure discomfort and unhappiness on the part of some of my close allies, as if to say, oh, we made a mistake anointing this man. I could see but I couldn't decode why.
Why did I not decode it? Because I didn't want to be governor in the first instance! I have always wished to be a senator, the nomination of which I told you I lost in 1999. So, I was all along working towards being a senator. Even among party officers, I would tell fellow members of the executive committee that the only thing they would do for me was to assist my nomination for the senate and everybody was like you have worked very hard for the party.
I worked hard for the South East. I would go to peace mission to the North East; I would go to Southwest and South-south – all volunteer work. I wasn't going for pecuniary interest like some of us. I would go, write report. I was one of the few secretaries that usually put up a report each time. So, Senate was always on my mind.
So, I couldn't decode but noticed that even up to the inauguration day, there was discomfort among my political associates, the inner group. It was until the night before the abduction so to say that I started getting phone calls from people, speaking to me in parables. One person called me and said, Your Excellency, I am calling you to know whether you know where your House of Assembly members are. And I said how could I know? They are in their houses and I am in my own home and he said hmmm and dropped his phone.
Then I got another phone call from my friend, Hon. Chudi Offodile. He asked how I am and said I am okay. I am in Awka. And he said he was just calling to find out how I am and that I should watch my House of Assembly members. But I said to myself if it is House of Assembly members, if they want to impeach me, they would serve me notice of impeachment. When they serve me notice, it will give me time to re-group.
The last call was from my friend, Chris Uba and that was early in the morning of July 10 and said he was going to Lagos to do one or two things and I wished him safe journey. But around 9am – 8:30 am, the state chairman of the party, Barr. Ifeatu Obi-Okoye came to see me in my hotel, Choice Hotel, because the governor's lodge was being renovated; it wasn't in a good condition. I was told the state chairman was looking for me and when he came, two things happened.
Maybe for me not to suspect anything, he said he wanted to talk to me; that he is interested in becoming a commissioner. And I asked him what portfolio he was interested in, that having worked with me to become governor, any portfolio he was interested in, is deserving except, Attorney General, because he is a lawyer.
I told him except Attorney General because he wasn't a senior advocate and I told him plainly that I needed a senior advocate; that I needed to change the standard of things in Anambra State. I want to enthrone excellence; that I wanted my attorney general to be a senior advocate and my commissioner for finance, a chartered accountant. So, he thanked me very profusely and it was in the course of thanking me that he told me that he had just left our common friend and political leader in our caucus.
I was leader with Chris Uba, because they made us co-chairman of the caucus but I deferred to him, because even though the structure we had then was built around both of us, he was the one closer to the Presidency than myself. I was the party man in the party structure, having been a national officer. So, he said he had just left him and I said in Enugu? He said No, in his Guest House in Awka and I said, is he in Awka? He said yes, so my antenna went up. Something is wrong. Somebody who told me he was going to Lagos and is here in Awka. But I have my own way of doing things. At times, I leave problems to solve themselves.
So, I went to the office at 10. I usually get to the office 9:30 but that day maybe because of those visitors, I got there 10. By 11, the whole drama started. I saw my ADC pushed out, something like ruffling and scuffling at the ante room, in front of my office by the late AIG Ralph Ige and the man who came with him – a three star, DSP, fully armed. Ige was in mufti. But I had seen him two days earlier in Enugu at Chris Uba's house on my way from Abuja.
I saw Ige there and we exchanged pleasantries. He was drinking palm wine. I took just a sip, not being a big drinker. So, when I saw him, I didn't understand the push at the door. He came in, sat down but usually when police officers see us, even the CP anywhere, they salute you because you embody sovereign. They are not saluting you because you are Mr. A or B, they are saluting the office, but Ige didn't salute me and was also not in uniform.
He didn't also chest out too, so that was the first sign. He sat down on the sofa. I was writing something on my table and I said welcome, went to sit on the single-seater near him. I then said this one you are dressed in mufti is it well, have you started your retirement leave? I knew he would retire in matter of months. And he said no, o, he was on duty here. I said ok, do I offer you anything, he said no. Of course, he was smelling alcohol that early morning. I said to myself that something was obviously wrong.
So, I went back to my table. Then he told me, oga, you have to come down from that table. I said why. He said I have instruction you should discontinue work. And I said from whom. He said from high up. And I said which one is high up. You mean high up or high down. He said I don't know, I should stop querying him. Bloody police officer telling me I should stop querying him. I said there is a lot on. So, when I picked my phone, he said no, no, no, I should drop the phone; that you are not to answer any call.
And it was an outside call. So, when another call came on my intercom, he said I should drop it and I said no, this is intercom; is my secretary calling me. So, when I picked the intercom, my secretary said the state Director of SSS wanted to speak to me. The Director of SSS, Okogie told me he heard some people are my office. One of my chief details must have told him. I had two chief details, one posted by Okogie and the other posted from Enugu command by Chris Uba.
So there was a tussle as to who is my chief detail. Of course, having discussed with Okogie, he said he cannot take a chief detail from another person; that it was his job to give me a chief detail, unless I have any other person in his command to choose, otherwise the boy he posted, Tony would be my chief detail. So, both of them were there.
Why did you accept the two aides?
The one from Chris Uba refused to go. And I mentioned it to Chris Uba who brought him and he said it is Abuja that posted that one. So, the only option I had was to sort it out with the DG in Abuja, because Okogie was hell bent it was Abuja that asked him to send somebody to me and that he had carried out the directive. Okogie was the state director and I didn't want any squabble with him or Chris Uba.
I decided that when next I visit Abuja, I would go see the DG of SSS. So, it was Tony, the one given to me by Okogie that called to inform him that AIG badged into my office, pushed them aside and disarmed my ADC. So, the man said ok, is he a real AIG. I said yes. He's even the one I knew. He said is it Ige? I said yes. He said he would contact his office. As we were there, the clerk of the Anambra State House of Assembly Mr. Alloysius Ikwuka came in. He was my secondary school Latin teacher, who we used to call Gozoga, when we were in school.
His face was very downcast. Immediately, the AIG saw him, he said ooh clerk you are here. Oya, bring the letter. So, they brought the letter – my resignation letter as governor and then, they brought out another letter that I have accepted the house of assembly resolution accepting my letter of resignation – two letters. When you sign the resignation, the house will do a resolution of acceptance and then bring it back to you to sign – acknowledge.
So, I refused both and I told him that this resignation letter was not from me. So there was argument and altercation. Then, the clerk left and Ige said I must sign and I said Never! I won't sign. He said in my own interest I have to sign it. I said which interest. I said the highest interest you have is that you have pistol, bring it out naah, let's see. I was waiting. If he had brought out his pistol, I would struggle for the pistol with him and I will take it from him.
Was that the plan?
Sure! As I said, I don't like bullies and I don't like being trampled upon. I hate it from childhood. So, I don't know whether he has his pistol or not but it was the other man, the DSP that has an AK47 by the door, and luckily, he wasn't there. He was there during the telephone issue and was the one who said if you touch that telephone again, I will shoot. Yes, He had his AK47 ready and was going out and coming in for that long four hours. He was trigger ready like a sniper.
Did you panic?
I didn't panic.
What gave you the courage?
Well, like I told you, certain things you cannot change, you leave it to God. But I wasn't going to bow to intimidation by any man. So, I now asked: is that why you are here. I now became more courageous. I was very angry. I asked him, is that why you are here? Is that why you are here for over four hours to parade a forged paper? I said please leave me. He said no, no, no you are no longer governor. And I said yes I accept am no longer governor.
So I started packing my things. He said no, no, no, I shouldn't touch anything. I said no, these are my files; I came with them and am going with them. I pressed my bell for my secretary to come. She couldn't because they have locked all the staff. So I carried my bag and was shouting and going out. He said come back and I said no. I am not coming back.
He then ran after and said he has instruction to take me to my village and I said how?
He said that's the instruction from Abuja and I said which Abuja. I said who in Abuja gave you the instruction? He said this is the instruction. I said no, I am not going to my village. He said where do you want to go. I said I want to go to Lagos to meet my family. So, he said ok, anywhere you want to go, we take you there. So, I brought my driver, of course, they have taken my staff, official car, folded the flag, covered everything, so entered my 406, my private car.
I usually put it in the convoy, because I didn't have full convoy of cars, so, I was using some of my personal cars. I entered and he put the DSP with AK47 in front of the car. So as we drove out, I saw two big lorries of anti-riot policemen following us. Unknown to me, my immediate elder sister was also following, trailing us. When we got to a place called Kwata Junction in Awka, it occurred to me I could go to my hotel. So, I told the driver, turn, go to the hotel so I can take my bags.
So, at the hotel, I was at the courtyard. I asked for a seat and sat down and said to the man I will need my PA to do the parking and that I had to wait for him. The DSP said no, I should go up and do it. Argument started raging. My sister was challenging them and my S.A Media, Fred Chukwuelobe was peeping at us and when they saw I had the courage and everything, they then rushed to Anambra radio and put up an announcement. They were already announcing that I had resigned and that the state house of assembly had accepted my resignation.
They now put a counter because they heard me at the courtyard telling the police I had not resigned and that I didn't know what they were talking about; that am still the Governor. So, they were challenging me. Four policemen with the DSP with the truckload outside, I didn't fear. We were now in the public glare. They had their guns but somehow now afraid of bringing them out. So we had altercation for close to 20 minutes in the courtyard. Then, one traditional ruler, Igwe Mbaukwu, came around and passed.
He is an APGA man and is very angry I am a PDP governor. They claimed that APGA won the state and we took it by force. So, he didn't look my way and passed. In fact he was my friend in the Alex Ekwume campaign. He was one of those that went to Jos. He was Ekwueme man to the core. Igwe Anugwu of Mbaukwu. So, when he went and came back, went and came back, he heard the altercations and came to ask me what was going on. I told him this people said I have resigned when I have not resigned. He said what? But we heard on the radio you have resigned. I said No, I didn't; don't mind them! So he came back to me and said would you like to speak with Dr. Alex Ekwueme? I said the VP, I said yes. So, when he came to give me the phone, the police attacked him. Luckily, the man usually carries a pistol approved for him by President Shagari. So, when they cocked their guns, he brought out his pistol.
So they thought he was a force man, an army officer or something like that. So they calmed down and went to report to their oga, the AIG- that I brought some armed people to the place. So Igwe Mbaukwu finished that call and asked what else, because Ekwueme only said aah, is it what is happening now. Who can be responsible and I said I don't know but it looks like it is Obasanjo and his people. So that was how the episode got to the climax and started climbing down.
So, the Igwe asked me if there is another number he would get for me. I remembered our number at the PDP Secretariat, the Secretary's office. Vincent Ogbulafor was the National Secretary and Audu Ogbe another friend of mine, a good man was the National Chairman. So when he asked me the number, that number was in my head, 0952316406 and he got the number at one dial and gave me. I spoke to the confidential secretary and said can I speak to Prince Ogulafor, he took the phone and said yes, who is this, who is this and I said is me, Governor Ngige.
And he said whoever is on this line, stop joking, we are not joking, we are mourning in this office. We are looking for Ngige and you are now telling us you are Ngige. So, I called the nickname I used to call him, the Prince of the Niger. He said eeehh, he shouted and told other members of the working committee. They were in a meeting actually, brainstorming on what best to do. Everybody now ran to the phone; AK Dikibo, everybody, that I am alive. And from there, Eddie Iroh, the then D.G of the FRCN; he had come there to interview them on the loss of their governor whose whereabouts nobody knew since morning and they told him I was the one on line.
Eddie Iroh put on his radio equipment and hooked up the FRCN live studio. It was 4p.m network news and said can you talk to Nigerians. So, I started talking; that I was alive but was still captive, still being held but hope to regain my freedom. That I did not resign, that I was still the governor of Anambra State. That was the thing that did the magic. From there, called the Vice President Office, got Atiku, another good friend of mine. Atiku called the IGP and said he had spoken to me, that the governor is still alive, and is there and said he has not resigned.
How do you people to take somebody's work when the person is still alive and has not resigned? In fact, I was on the other line while he spoke to the IGP. So, when he finished, he came back to me on the other line and said, please, go back to your office. I have directed them to take you back to your office. That was it. After an hour, the AIG came with the CP. There were now two CPs. I think the Enugu CP had joined them or so. They said they wanted to take me back to the office and I said no, I am not going again, it's late. It was already 5:30 – 6pm.
And you slept in the hotel?
Yes, I had to sleep there because by then, Anambra people had taken over Awka, besieged the place and chased away the police. Of course, I am a courageous man like my father. The only thing I did was to call for my own gun, pump-action in case. We don't take prisoners but I won't die without a fight.
What are the chances of APC making inroad in the South East against the 2023 general elections?
The inroad has started. It has started with this clamour for the Nigerian presidency of Igbo extraction.
Do you think the project is realizable?
Why not?
What are the chances?
I don't want to discuss the chances, because I am not discussing the presidency and who is filling it next now. I feel it is unfair for the incumbent, who has not spent half the time. You know in a football match, it is at half time that necessary changes that win the game are often taken. So, people should leave the matter till next year, maybe, when we would have been two years in office.
That is when our party members should be talking about who will go into this office, wear the shoe, and it will fit and our agenda. The ones the president has achieved, how do we maintain and build on it. This is my view on this. But whether there should be rotation, zoning or not, for me, is a simple matter. It is a gentlemanly agreement. Even the American constitution doesn't have everything written in it. It is not written in our constitution, but for me, it will make for stability and fairness if it rotates back to the south.
I was in PDP. We practised it. It makes for stability. We don't have it in our party constitution but we the framers of the constitution of the APC agreed that it is something possible. I was one of the wise men that drafted the APC constitution with Chief Segun Osoba as head. That's what we agreed on; that we don't have to insert it but these are things that could be done by gentlemanly agreement. And when we went for the first national convention of the party to elect the presidential candidate, we told all the southerners to step down.
It was only Okorocha who refused to step down and we quarreled with him. People like me quarreled with him from the South East and I told him I won't support him and I did not. So, that is it. If you are talking about merit and competence, you can also enthrone it. If you come to the southern part, you will also see competent persons. So, for me, this is the way I look at it but everybody has his own opinion on the matter but the side of the divide I will stand and stand firmly will be known after May 29, 2021.
Some people believe Anambra still needs you. Are you looking that direction?
What do you think if you were me?
I don't know.
I left that office 2006, fourteen years ago. It's a long time and I have done national politics ever since. I have run for senate election and won. I have done one term as minister and the president called me back – a big mark of honour, a big vote of confidence. So, I have to assist him. I have to hold on to him.
What was the experience like being in the senate?
Great but by the way, to get to the senate for me is a life-long ambition, which started when I served in the National Assembly as a youth corps member. I saw Uba Ahmed, how they maneuver. I saw Victor Akan, his big oratorical skills. I saw Jonathan Odebiyi, Late Fasami, very articulate. I saw my kinsman Onyeabo Obi, Echerue, perfect delivery all the time. I saw them and fell in love with being a senator.
Remember that I had lost the party primary to Mike Ajaegbo in 1999, but had my ticket in 2003 before agreeing to go for governorship. I have always yearned to be a senator and that is why I had to contest again after leaving office as governor in 2011 and gave it my all. It was the toughest political battle in my life as a politician. It was the toughest, the most gruesome, because it sapped everything out of me. I faced five formidable opponents, five in one.
I fought five strong opponents, personified by only one person, Prof. Dora Akunyili. Dora was the APGA candidate but behind her were very strong forces. Victor Umeh, National Chairman of APGA, from the same local government, the senatorial district, Peter Obi, the incumbent governor with all the paraphernalia of state government, Dora Akunyili herself, very strong personality with large and wide connection in Nigeria, even internationally. They had very strong connections inside INEC.
In fact one of the INEC officials told me we would continue doing re-run election in this senatorial district till we run you out. Of course, Dora herself said she has some ACN members, my own party backing her. It was the fight of my life. We did election three times and when we finished, we entered the courts and started another round of election inside the court. The tribunal had to send our case to the court of appeal three times – back and forth. It was to the extent that 180 days caught up with us and I now filed at the tribunal that 180 days had gone, that the case be terminated.
What is your biggest challenge now as minister?
My biggest challenge is the economy of Nigeria, and the problems associated with it – unemployment and under employment. You also have disturbance in the industrial milieu. Lack of money/revenue in the economy, giving rise to agitations all over, over wages, because remunerations aren't enough anymore! The employers and employees will always be at daggers' drawn and their point of termination is my place, which is the Ministry of Labour and Employment.
But, more importantly, as Minister of labour and Employment, it is disheartening to me that we are unable to assist people and say, this agency is recruiting, this company is recruiting, because in the former times, it is as the employment and wages section of the my ministry that unemployed people go to register so that they can be captured as unemployed and employers will be coming to our system to ask for this type of person with this qualification or the other. They will give the job description and the required qualification and the ministry now does the matching but all that have gone. So, in a way, it is frustrating to me.
What are the issues at the NSITF? Are you on a vendetta mission?
No, I am not on any vendetta mission otherwise they would not be there up to this time. Do not forget that they came there since 2017. The Managing Director and the Executive Directors have four years tenure and they have spent three years of the four years tenure, remaining about ten months. I am not on a vendetta, but I don't want the place to crash. I have tried to manage them.
What of the memo from the SGF office that ministers shouldn't be sacking heads of agencies?
That memo, people misconstrue that memo. Go and read that memo. I was a civil servant. It is a circular. Two things about a circular: a circular is an inferior legislation, very very inferior. The hierarchy of legal authority starts with the constitution. Constitution is the grund norm. Any law made by the National Assembly or any other body that contravenes the constitution, the constitution supervenes.
Number two, after that constitution, you have the Acts of the National Assembly and after that, laws made by states which is void, when it contravenes the acts of the national Assembly. Then come regulations, which flow out from laws. In fact, before regulations, you have executive orders. We aren't using it much but as Anambra Governor, I used much of it because I had a very good Attorney General.
After regulations, you now have directives from the executive in particular or in anything that affects both the executive and the legislature especially in terms of the economy or management of the public service – these come out as circular.
So, you see where a circular is? So, if you are talking about what I did being against a circular, the President has given an approval based on section 171 of the constitution. In fact, from section 169, 170, 171- read them together. President can appoint and dismiss some group of public officers without recourse to anybody.
It is only those he appoints conjointly with the National Assembly that he goes back to the National Assembly to say I want to remove this man or remove this man for me and that is those in the federal executive bodies and not those in 169, 170. 169 is the public service of the Federation and it also said there that the president owns it.
And if you also go to section 5 of the constitution, the President is the chief executive of the federation. Again, if you go to 171, it lists the offices – the offices are SGF, Head of Service of the federation, permanent secretaries and heads of extra-ministerial departments or by whatever name so-called, personal assistants, advisers and ministers in section 147, 148, 149. So, even these people you are talking about, the SGF circular or no SGF circular – section 171 overrides everything.
So, the SGF circular is subservient document to presidential directive or approval, because it is the same president that directs that will issue this circular. But the same president can grant exemption. Even in this case, however, like I told them at the National Assembly, I also passed a memo through the office of the SGF to fulfill all righteousness, apart from the presidential directive.
So their removal was in order?
They are on suspension. The President has not sacked them. His directive says: I want to hear from you people, go and face a panel. There are some breaches and financial regulations infractions. Some of them are prima facie – go and prove your innocence there. Some of them are there before the panel. It is only two of them that decided to go to court. Today, I saw their summons taking the president and I to court – the National Industrial Court.
Source
https://www.thisdaylive.com/index.php/2020/08/16/chris-ngige-the-true-story-of-my-2003-abduction/