IGBO CUISINE
The Igbo people of Nigeria are known for numerous traditional food. Igbo no doubt is home to many popular Nigerian cuisines as most of the foods Nigeria is known for has its origin from Igbo land.
1. Utara na Ofe: Utara na Ofe, is the most popular and commonly consumed Igbo food. Utara, also called Nri Onuno, can either be Akpu, (Utara Ji or Nri Ji, Nni Ede or any form of swallow like, Garri, Nni Oka, Semo or Guinea corn swallow. Utara can be eaten with different kinds of Igbo soup ranging from Oha, Egusi and others:
i. Ofe Ọkwụrụ(Okra Soup)
Ofe Ọkwụrụ is undoubtedly the cheapest Igbo soup, one of the most popular, one of the most delicious, nutritious, mouth-watering and finger-licking soups in in igbo land. Ofe Okra is most preferred not just because of its taste but also because it is very easy to prepare. Is important for you to know that okra is a vegetable that originated amongst the Igbos. The original Igbo word for okra is Ọkwụrụ.
ii. Ofe Egusi (Egusi Soup)
Ofe Egusi is a popular Igbo soup made from melon seeds. Ofe Egusi is not peculiar to any Igbo sub group or state as the soup is prepared in so many ways by different Igbo state or sub group but aside the general way of preparing Ofe Egusi, Ndi Abia prepare Egusi in different way called Akpuruakpu Egusi.
iii. Ofe Onugbu (Bitter Leaf Soup)
Ofe Onugbu is a popular soup of Igbo tribe of Eastern Nigeria. Although Ofe Onugbu cut across the entire Igbo land, it is more peculiar to the Igbo people of Anambra and Enugu State. Onugbu is the Igbo word for Bitter-leaf, although the name of the soup is bitter leaf soup, the soup itself is not bitter at all because the leaf must be thoroughly washed to get rid of the bitterness before it is used.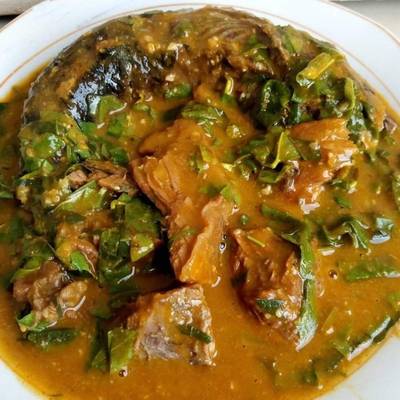 iv. Ofe Oha (Oha Soup)
Ofe Oha is one of the most popular Igbo soup, it is consumes throughout the length and breadth of Igbo land but more popular among the people of Enugu where the Oha tree grows the most.
v. Ofe Ogbono (Ogbono Soup)
Ogbono is definitely one of the most delicious, nutritious and mouth-watering soups of the Igbo people. Ogbono seeds which give the soup its name is gotten from two different trees, the Adu tree and the Ugiri tree but the Ogbono gotten from the Adu tree is more popular and more expensive than that of ugiri.
vi. Ofe Nsala (Nsala Soup)
Ofe Nsala is a very mouth-watering indigenous to the people of Eastern and Riverline areas of Nigeria. Ofe nsala is very a tasty and quite easy to make, Ofe nsala is mainly prepared for nursing mothers although it's open to everyone, this delicacy is traditionally made without the use of palm oil as compared to other Igbo soups that require red palm oil as one of its main ingredients. The total absence of the palm oil is what makes this dish so appealing to new mothers.
vii. Ofe Akwu
Ofe Akwu is a very popular soup of Igbo people of South Eastern and south southern parts of Nigeria. In the South Eastern parts of Nigeria, Ofe akwu is used mainly as stew and eaten with white rice while our brothers at the other side of the River Niger commonly eat Ofe Akwu which they also can be taken with various Utara recipes such as, Starch, Pounded Yam, Semolina, Garri and Cassava.
viii. Ofe Owerri (Owerri Soup)
Ofe Owerri is one of the most popular soup of the Igbo people and it's expensive too. Ofe Owerri is more peculiar to the Owerri people where it got its name from. Ofe owerri is made with assorted meat.
ix. Ofe Okazi (Okazi soup)
Ofe Okazi is an Igbo soup made from the Okazi leave and Ugu. This delicious meal can be prepared in different ways depending on the state, while some prefer to use both Ugu leave and Okazi leave in preparing the soup, some prefer to use just the Okazi leave or Okazi leave and Water leave. Whichever way the Okazi soup is prepared it cannot be called Okazi if the Okazi leave is not used in the preparation. Okazi is prepared with assorted fish, meat, spices and a soup thickener which can be either ofor, achi or ede.
x. Ofe Achara (Achara Soup)
Ofe Achara is a popular soup among the Igbo tribe of Nigeria especially those of Abia, part of Ebonyi, Enugu and Imo state. Ofe Achara is cooked with lots of ingredients but what makes it special is the Achara plant which give it the name Ofe Achara (Achara soup).
xi. Ofe Achi (Achi soup)
Achi soup is an easy Nigerian soup recipe that is commonly prepared with different vegetables.
2. Ji:
Ji (Yam) is one of the most consumed and the most important food among the Igbos. Ji is cooked and eaten in so many ways but the most common way the Igbos eat their ji is by preparing it with vegetable. The process is called Igwo Ji or Ibio Ji and the vegetable Yam is called Ji Agworo Agwo, Other Ways the Igbo Eat their yam includes: Ji Ahuru Ahu, Ji Olulu/Orulu Ji Abubo, ji Mmanu.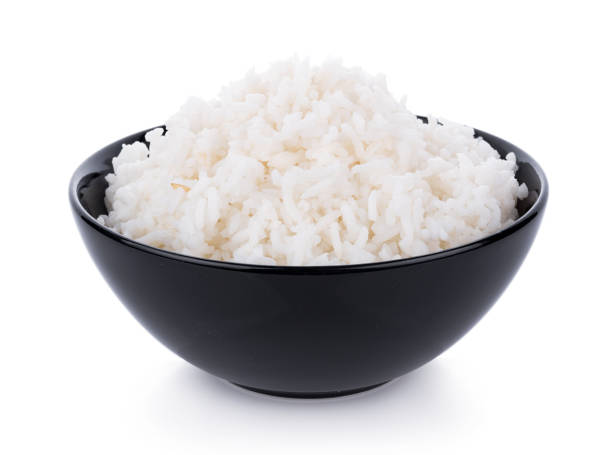 3. Osikapa:
Osikapa, popularly known as rice is one of the many food eaten by the Igbo, Osikapa can be prepared in many way but the most common is Osikapa Ocha na Ofe (White rice and stew) Osikapa Agworoagwo (Jollof Rice) Osikapa na Agwa (Rice and Beans). Osikapa is mostly and mainly eaten on a Sunday.
4. Abacha:
Abacha also referred to as African salad is a traditional Enugu meal of eastern part of Nigeria, abacha which originated from Enugu is made from cassava. Abacha can be served as an appetizer or main meal, it is mostly used to welcome visitor before serving them the main meal. Abacha can be prepared in so many ways depending on the community you visit or the home you visited. No event happens in Enugu without Abacha in the menu. Abacha can be prepared in so many ways and its best served with fresh palm wine.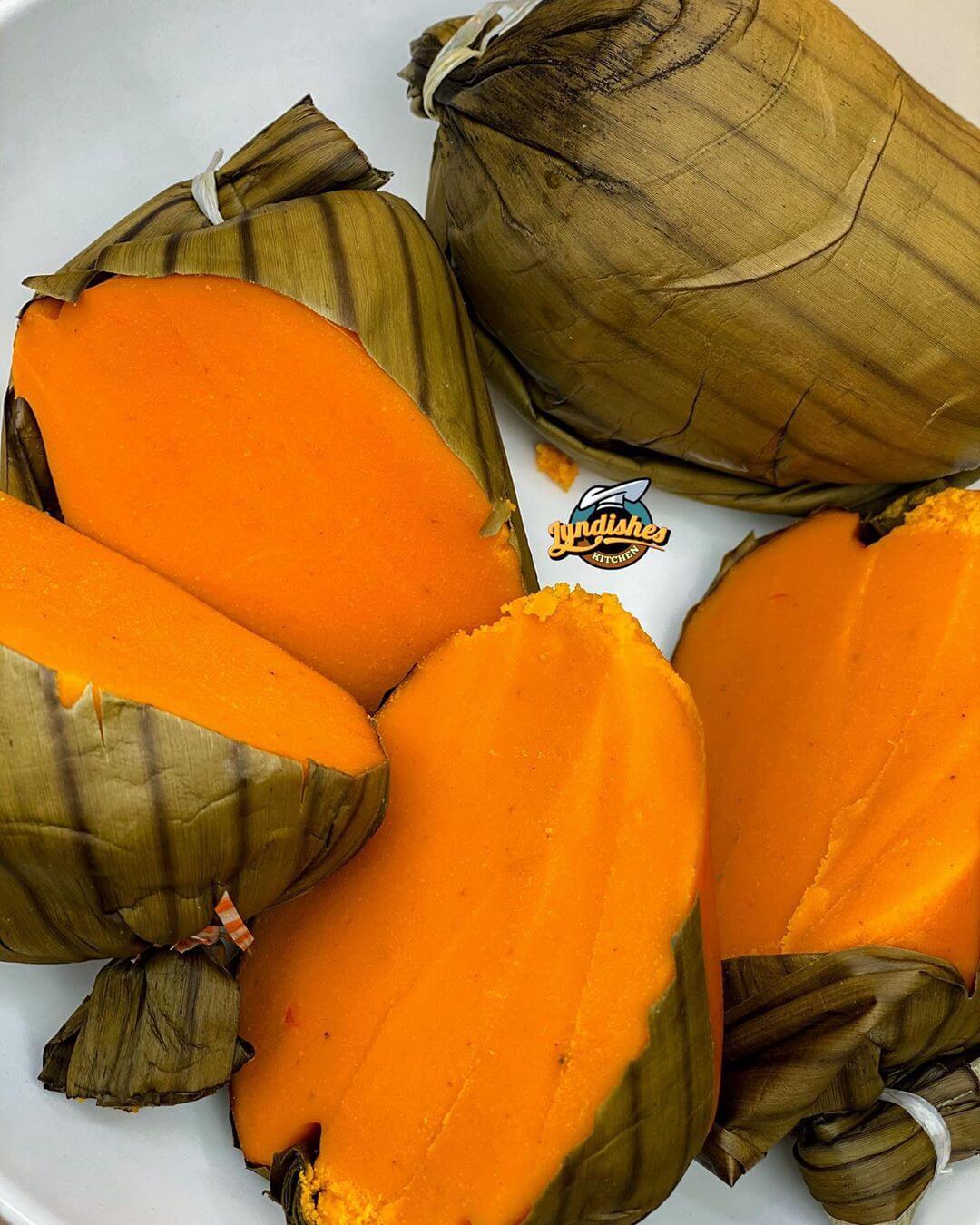 5. Okpa:
Okpa, also referred to as king's meal or lion's food is a popular Igbo dish of Eastern Nigeria which originated from Enugu. Okpa is made from bambara flour gotten from bambara nut. Okpa is very easy to prepare as few ingredients are required and it takes just about 45 to 50 minutes to cook. Okpa which is mostly wrapped in banana leaves or thin white nylon bags can be gotten anywhere in Enugu as vendors sells them in virtually all the joints and parks in the state. Okpa can best be eaten with Coke, Pap, soaked garri or tea.
6. Nkwobi:
Nkwobi is a much loved delicacy originated from the Eastern part of Nigeria. Nkwobi comes in so many varieties as it can be prepared with cow meat, goat meat, stock fish or even chicken. The most popular of all nkwobi is Isi Ewu, (goat head), cow tail nkwobi, cow leg nkwobi or kpomo nkwobi. Nkwobi can be found virtually in every beer parlour in Nigeria Nkwobi is best enjoyed with palm wine, beer or any other drink.
7. Ji Mmiri oku:
Ji Mmiri Oku is a yam and dried fish pepper soup porridge native to the Igbos of Nigeria. It is a traditional meal that is usually prepared for new mothers, right after putting to bed(traditionally known as the Omugwo time). It is often loaded with hot pepper, which is said to help the new mum heal faster.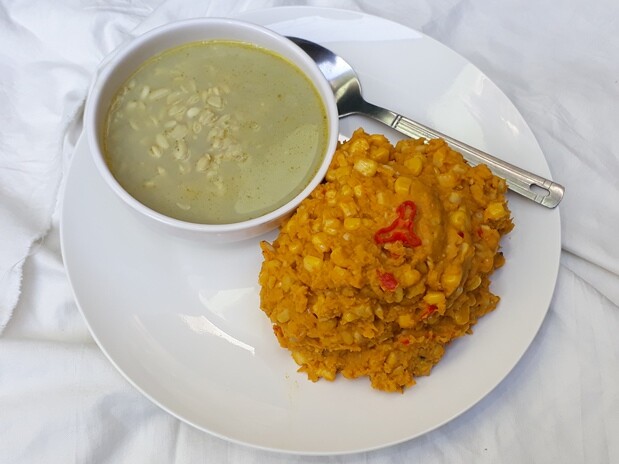 8. Ukwa:
Ukwa is one of the popular foods eaten by the Igbo people. It is made from fresh breadfruit. The seeds are shelled, washed and cooked with crystal soda (akanwu) or ukwu with water till it is soft enough for consumption.
9. Achicha:
Achicha is one of the local food prepared by Enugu people, Achicha which is made of dry cocoyam can be prepared with fresh akidi, or fio fio. Achicha can also be prepared alone with just scent leaf. Achicha is loved by both people of Enugu state and visitor's and mostly prepared by the people of Awgu, Nsukka and Ezeagu of Enugu state.
10. Akidi:
Akidi is a small tiny bean seed which looks reddish or black in color. Akidi is mostly found in the northern part of Igbo land especially in Enugu state. Akidi which is one of the legumes known for its high protein content is one of the local food of Enugu people. Akidi can be prepared alone with Ugba and also with yam, or abacha.
11. Ede:
Ede is also one of the major food consumed by the Igbos, Ede is cooked and eaten in so many ways but he most common way the Igbos eat Ede is by preparing it with vegetable(Ede Agworuagwo or Ede Obibo) Ede Nsuru, Ede Mmanu or use to prepare soup (Ede Ofe/Ede ohe)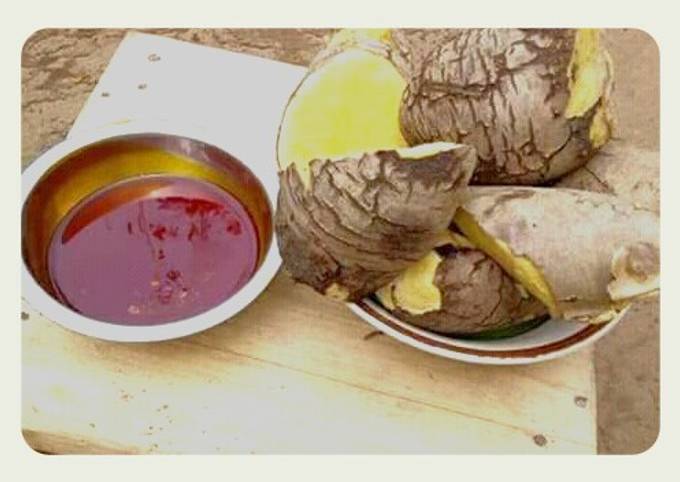 12. Ona:
Ona is one of the most nutritious of the commonly cultivated yam species. Ona which is rich in carbohydrate, protein, vitamins and minerals when compared with other common species of yam is mostly cooked and consumed with oil, Ugba or any of the Igbo native sauce like Potash sauce.
In the south eastern Nigeria, Ona is also utilized in treatment of diabetic patience and as herb for treatment of various ailments.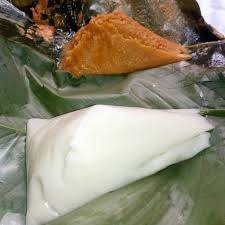 13. Agidi:
Agidi is one of the food Igbo people love the most, Agidi is made from corn flour. Agidi is mostly cooked in two way, the white one and the jollof one. Agidi Jollof is mostly eaten as a snack but you can also serve it as a light lunch or dinner. The white Agidi goes together with Peppersoup or Akara.
14. Agbala Atui:
Agbala Atui, also known as Iho in some part of Igbo land is a special delicacy made melon seed (Egusi). After grinding or pounding the Egusi mixed with some ingredients it's then wrapped with banana leaves and cooked.
15. Fio-fio:
The fio fio dish is a spicy pigeon pea porridge, peculiar to the people of Enugu state in Nigeria.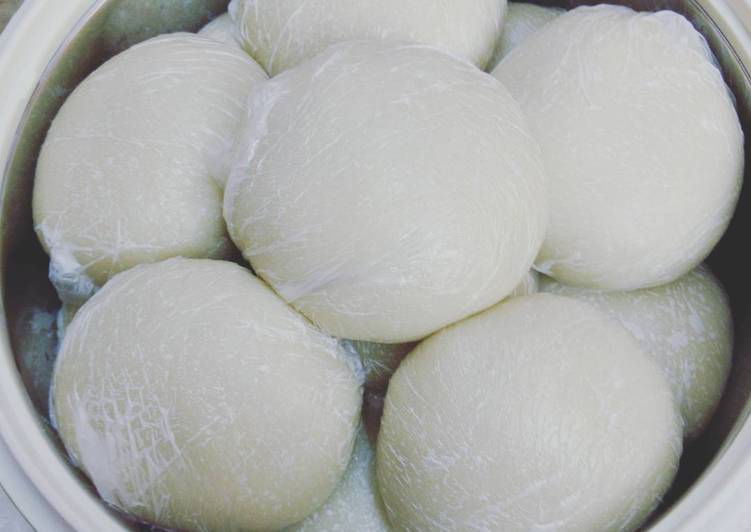 16. Akpu:
Akpu made from fermented cassava dough cooked and eaten with thick textured soups.