"Killi-We" Nwachukwu
The Most Powerful Superman and Greatest Stuntman in Igboland.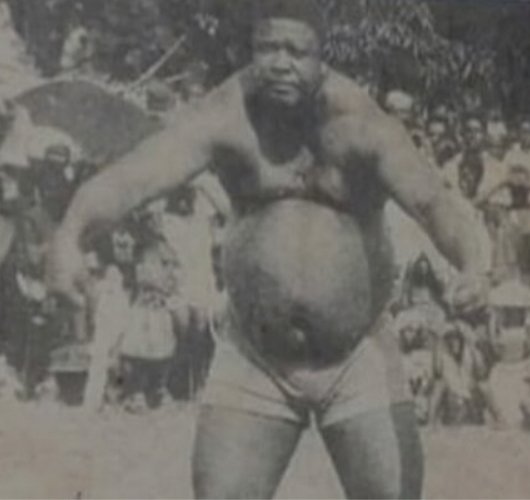 Uzoma Nwaozuzu Nwachukwu commonly known as "Killi-We" Nwachukwu from Amaegbu, Ekwereazụ, Ogwa in Mbaitolu Local Government in Imo state. He was born in 1931. He was for more than two decades celebrated as a homegrown Nigerian "superman". Some of his legendary feats of strength included lifting buses, having cement blocks crushed on his head, and allowing cars to drive over his body. He was a superman who was going from place to place to perform. People paid to watch him. I saw him perform at our primary school in those days.
"Killi We" was a nickname he got after a fight with a man who refused to pay him his money for a truck load of goods he conveyed from the market to the man's home. He used to push a wooden two wheel truck with which he carried goods for people. Then, Truck vehicles were not affordable. So, after dropping off the goods, the man would not pay what Nwachukwu charged claiming it was too high. He tried to walk away and Nwachukwu grabbed him by the hand insisting he must pay. A fight ensued and he pinned the man to the ground. The man's wife ran in and came out with a wooden pestle to assist her husband. Nwachukwu snatched it from her, lifted the woman up and pinned her on top of her husband on the floor. Powerless, she started screaming, Killi we Nwachukwu, Killi we Nwachukwu" meaning, Nwachukwu, kill us!
Prior to his death on 31st October 1992, he always complained of rhythmic muscle movement around his body which later metamorphosed to muscle stiffness as a result of his retirement from his superman career that shot him to fame. He resorted to traditional treatment and didn't survive. On October 31, 1992 he died in his sleep, aged 61.
He travelled the length and breadth of Nigeria entertaining people as a stuntman for a fee. He toured schools, market places, village squares and festivals to exhibit his muscle prowess. Rumour has it that when he died, his body was deposited in Aladinma mortuary, Owerri. In the night, he would gather all the corpses together and stretch himself on them. He did this repeatedly till his corpse was rejected by the morgue.