The Story Of Ezego Of Ihiala (The King Of Money)
His name is Chief Victor Nnamdi Okafor. Nonetheless, he was more popularly known by the name Ezego or "Eze-Ego" (English: King of Money).
Ezego was born on the 25th of December in 1964. He is a native of Uzoakwa, Ihiala in Anambra state late. Ezego attended only grade school and would abandon education entirely. He joined an armed robbery syndicate that terrorized the people of Anambra state for years. In 1988, every member of the armed robbery squad were apprehended except Ezego.
In 1989, he decided to move to Lagos where he joined a mentor to pursue business opportunities. Nothing seemed to happen after being in Lagos for a while. Then suddenly, Lo and behold he became a multimillionaire and a very well-known individual. He was said to have engaged in "Ọgu ego" (money rituals), which helped him gain great fortune.
Ezego's source of wealth was unclear, as he accumulated his fortune after only a brief time in Lagos. He owned multiple businesses, buildings, and a large collection of high-end automobiles, and he always traveled in a convoy. He was known for his flamboyance, showmanship, and generosity.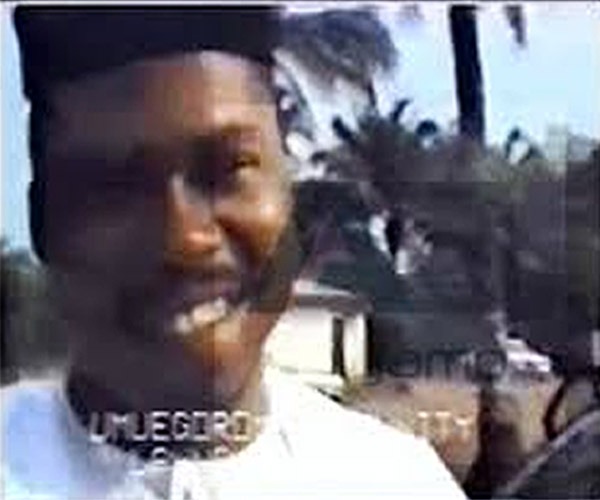 Ezego built a number of large shopping malls. He has one at Allen Avenue, Ikeja. On the Murtala Muhammed International Airport Road, there was another. In Abuja, Ezego also had another massive shopping complex.
In these shopping complexes, he ran and controlled one of Nigeria's largest electronics stores. His other companies were Vic-Winners International Limited, Ezego Nigeria Limited, Ezego Holdings Limited, Vitex Zinc Co. Limited and Ezego Properties Limited.
His house back at Ihiala was built with the marbles imported from Italy. The mansion is said to be worth N500m. His whole real estate outside of Ihiala was valued at almost half a billion naira in 1999 – a mindboggling amount at the time. Ezego had one of Africa's largest collections of exotic vehicles during his lifetime. He spent a lot of money on these expensive cars. He kept high-end vehicles in his garages in Lagos and Ihiala. Some estimate the value of his garage at one billion naira.
Ezego once spent N14 million on two high-end vehicles: a Lincoln Continental Mark 8 sedan and a Mercedes-Benz R230 convertible. At the time, N14 million was a huge sum for two cars. He bought the cars from popular Lagos car dealership, Tayo Ayeni's Moontrends Motors.
He was married to the fair-complexioned and beautiful Laurita Nkechi, a princess from Akata in Imo State and the marriage produced eight children. Not only that, he also had kids by other women apart from his wife, Nkechi. When Ezego died, a lot of controversy erupted amidst his family members. Although Ezego's life was very mysterious and controversial, his death was even more so.
All of which became useless after his death, all his cars rusted as no one was willing to drive nor purchase them, his houses were abandoned as no one wanted to live in them or purchase them either as the community firmly believed he made his money through diabolical means. Furthermore, all his businesses collapsed under strange circumstances.
Ezego would have normally taken a flight from Lagos to Enugu, and then, take a convoy all the way to Ihiala. However, the fatal rates of air crashes during that period claimed to have made him change his mind. The outcome was disastrous for the mogul.
Sadly, on December 23rd, 1999, he was involved in a fatal automobile crash under bizarre circumstances. Ezego hardly ever drove, rather he had a personal chauffeur whom he travelled with but on the day, it was reported that he instructed the chauffeur not to drive and that he intended to drive himself.
Ezego decided to get behind his Lexus jeep in the convoy and drive himself all the way from Lagos to Ihiala. The car developed fault on their way along Lagos-Ibadan Expressway, but finally broke down completely in Asaba, Delta State. Ezego did not want to leave his cherished automobile in the middle of nowhere in Asaba at the mercy of robbers. So, he bellowed at one of his boys to purchase a chain so the jeep would be towed. The lad returned with the chain, which was then attached to the faulty jeep. However, that was the beginning of his problem because Ezego was said to have insisted on towing the broken-down vehicle all by himself with him driving the Lexus pulling the Cherokee. So he was in front while another of his boys was behind the wheels of the Cherokee.
Tragedy stroked when they entered Anambra State, between Ozubulu and Okija on the Onitsha/Owerri Road. At that point, they were just two kilometers away from Ihiala in Anambra State, Ezego's hometown their final destination, and that was when death decided to unveil his dreadful figure. Ezego reportedly ran into a damaged portion of the road while he was going down a steep slope and all of a sudden, he stepped on the brakes. The driver of the Cherokee behind him was caught unawares and as he was not even prepared for the sudden stop, he suddenly rammed the Cherokee into Ezego's shiny Lexus, sending the millionaire tumbling down a deep ditch by the roadside. It must however be noted that there are some other slightly different accounts of precisely how the accident happened. Other reports stated that it was actually the towing chain between the two jeeps that snapped, thus forcing the Cherokee at the rear to ram into Ezego's Lexus making him lose control and plunging into that horrible ditch. Immediately this happened, his convoy was thrown into a pandemonium. Those in his convoy made frantic and desperate efforts to get him out of the ditch and get him the most effective medical attention promptly. By the time they finally succeeded in getting Ezego out of the ditch, he had sustained a deep gash and his face was massively puffed up. He was rushed to the nearby Lady of Lourdes Hospital (where Ezego incidentally made a donation of N15 million naira a few years before the accident). He was still alive and stable when they brought him to the hospital and all the medical workers went into an overdrive to save the life of a man they know as a mentor and generous giver. However, things got worse and to make matters even more frightening, there was no doctor on duty. By the time a medical doctor eventually showed up, Ezego was already bleeding through his mouth, he was having internal bleeding and was already in shock.
All attempts to stabilize him failed. At that point, his family members suggested that he be quickly moved to a better-equipped hospital in Port Harcourt. At this point, his tale becomes hazy as it is not known whether he finally died while he was on his way to Port Harcourt or while he was being prepared for a flight to Lagos from Port Harcourt. The staggeringly rich man died on December 25, 1999 at the age of 34.
Sources
Oluwafunmilayo, Akinpelu (1 December 2019). "Tragedy of Nigeria's King of Money (Ezego): His life, controversies and death". Legit.ng. Retrieved 6 June 2021.
Ellis, Stephen (November 2008). "The Okija Shrine: Death and Life in Nigerian Politics". The Journal of African History. 49 (3): 445–466. doi:10.1017/S0021853708003940. ISSN 1469-5138.
Adedeji, Oluwadamilola (9 November 2020). "History: The story of Ezego, Nigeria's King of Money". Daily Times. Retrieved 19 June 2021.
Odinaka; Odinaka (20 June 2017). "Nigeria's King of Money: The Untold Story of Igbo Tycoon, Victor Okafor, the Eze Ego 1 of Ihiala". Tori. Retrieved 19 June 2021.
The Life and Time of Ezego: His Business Empire, the Wealth He Left Behind Plus why He Died. Pars Communications, Limited. 1998.