The Story Of Derico Nwamama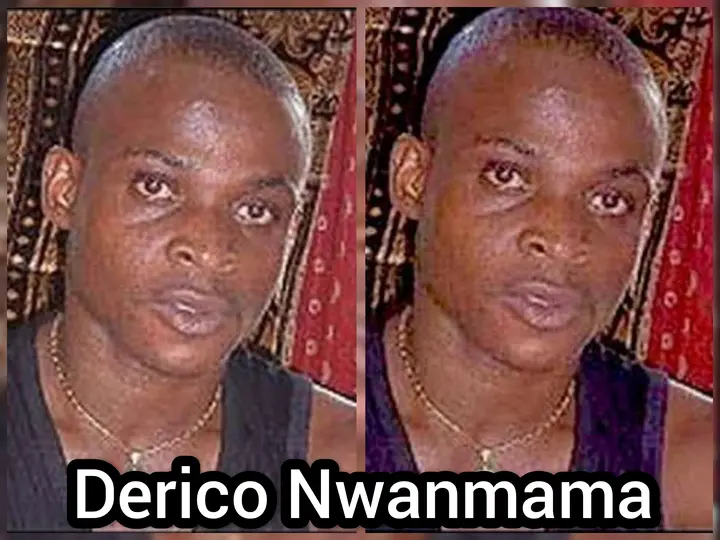 Nigeria has had more than its fair share of violent crime kingpins, many of whom even sit in the country's hallowed chambers as respectable gentlemen but few, if any, can juggle the people's memory, particularly those in the East of Nigeria, quite like the bloodthirsty young adult who became known as Derico Nwamama. Even though he was only 22, Derico's thirst for blood struck fear in the hearts of the people of Anambra.
The majority of Nigeria's most notorious armed robbers held their reigns of blood and terror in the 70s and 80s, during an era where, despite a country covered in camouflaged green, crime and lawlessness were rife.
Okwudili Ndiwe, a 22-year old, also known by the name, "Derico Nwamama" or simply, "Derico", had risen from a random street urchin to become the leader of a ruthless armed robbery gang that was synonymous with blood and loss in the eyes of the people.
At the height of his notoriety, traders could hardly display their wares with any illusion of permanence for fear that the cries of "Derico" would rent the air and begin another chapter where some would lose their livelihoods and others, their lives.
It was no different at night; many would say they could only sleep with one eye open because Derico would come when he would, night or day.
Whether out of the desire to make big scores or just a sheer absence of fear, Derico would rob the biggest and most secure banks, carting away millions of Naira and leaving bodies as his token.
He and his gang would lay in ambush, waiting for luxurious inter-state buses to rob. In December 2000, it is said that Derico attacked a 59-seater bus at the popular Upper Iweka. After robbing the passengers, they decided to kill all the passengers. Only four would survive.
After operations, he would often boast of his invincibility, that no man could kill him.
At the height of his reign, it was estimated that Derico killed over 100 people, including police officers.
Derico's main stomping ground was the markets of Onitsha, but he would also take his bloodthirst from Nnewi to Nkpor, to the villages of Umuleri and towns in Ihiala.
No one was safe. Not even the governor, for the uproar of the people and the physical testaments to his atrocities, made it clear that this was a matter to be troubled by.
The people's fear of Derico made room for rumours about his person and his methods. Urban legends quickly sprung up; some claimed that he was no human and could not be gunned down by a bullet.
What was known was that Derico did not live where he worked. The media suggested at the time, that he resided in the country's capital, in faraway Abuja, an entire 450 kilometers from Anambra.
Derico only showed up when he wished to 'operate'. After launching terror, it was onwards to Abuja.
It was said that, for a while, he maintained a hideout in the town of Umuleri as well as in neighbouring Agbor in Delta State.
It was while here that he would send threatening messages to the police for killing his affiliates and members of his gang.
Ironically, it was when he killed one of his most infamous affiliates that the pendulum began to swing away from him.
Before Derico became notorious, the local police described one Chiejina as the state's deadliest armed robber. Like Derico, Onitsha was his stomping ground and naturally, their paths soon crossed.
Perhaps because they saw more opportunities in collaboration, the two began to work together in a sense, sharing intelligence and scheduling attacks. Their relationship proved fruitful for a while, but Derico's blood-lust became too much for Chiejina.
The two began to clash over territory and their approach to the fine art of robbing people for their money.
One day, while they were having a particularly loud spat, Derico pumped Chiejina with a rain of bullets.
Anambra could now make do with one crime lord, an amoral gang leader who was barely a few years into adulthood.
Months after his reign of terror began, the people of Anambra were spent. Governor Mbadinuju was under heavy pressure to explore options outside the Nigerian Police.
Midway through 2001, the Anambra Division of the Nigerian Police began Operation Derico to capture the elusive armed robber. To put it simply, it was unsuccessful.
Derico and his gang had an expansive cache of weapons that gave the police a run for their money. He was also notorious for gunning down police officers; some reports claim that he murdered as much as 25 of them.
Torn and running out of options, Governor Mbadinuju, with the support of governors from neighbouring states, brought in a paramilitary force to tackle the spate of crime in the area.
The End is Nigh
They were called the Anambra Vigilante Service, or as they are more commonly known, the Bakassi Boys.
In the final days of his reign, Derico became more daring.
In June 2001, he launched an attack on a local police station to secure heavy weapons for a planned raid on a bank in Asaba, the capital of Delta State.
He also began to work with other gangs to execute more daring robberies.
In tandem, the Nigerian Police and the Bakassi boys turned the heat up on him.
Audaciously, on one occasion, operatives of the Special Anti-Robbery Squad Division of the Nigerian Police Force and the Bakassi Boys left for Abuja where they carried out a raid on Derico's residence.
The objective escaped but two of his most notorious lieutenants were killed and his cache of weapons seized.
Desperate, Derico began to move sporadically.
It was during one of his trips that the Bakassi Boys got wind of his location and mounted an ambush that led to his arrest.
On the 3rd of July 2001, the vigilante group heard that Derico was on his way from his hideout in Agbor to Onitsha.
The boys lay in waiting at the end of the Niger Bridge for his commute. Soon enough, at the Bridge Head, Derico was identified in a commuter bus and subsequently arrested.
The Nigerian Police requested that he be released for investigation and prosecution but with no trust and assurance that he would meet what he deserved, the Bakassi Boys refused.
Six days after Derico was captured, the Bakassi Boys drove, singing and chanting defiantly, from their base to the popular Ochanja Market Junction.
As shouts of approval and celebration tore through the air, the Bakassi Boys leapt out of their vehicles and unveiled their prize catch; Derico.
Few had seen the robber or even knew what he looked like, but what they saw, a body cut deep by machetes and beaten into a sad pulp, was not what they expected.
The Bakassi Boys had built a fearsome reputation for savagery with their treatment of captured armed robbers and suspects. Many expected Derico would meet a similar fate before them was evidence that they were on the money.
"My name is Oddy, alias Derico"
After a crowd had gathered, one of the senior commanders of the Bakassi Boys addressed them about the group's intentions.
He spoke about how they were not in the state for politics but to restore law and order.
Then he handed the microphone to Derico.
The once-feared robber was feeble under the weight of pain. Once defiant, he was noticeably weak in body and spirit. In that place of desperation where pride seems to exist no more, he made a final attempt to protest his innocence.
There are no certain accounts of what he said but something along these lines has been quoted not once or twice.
"My name is Oddy, alias Derico, alias Nwa Mama. I appeal to you, the good people of Anambra State, please don't kill me, I don't like evil. It was when I killed Chiejina (another suspected robber) that people thought I'm a strong guy".
After shouts of derision filled the air, it is said that Derico, perhaps sensing the end was nigh, began to out his sponsors and protectors.
He claimed that he had been protected by a member of the National Assembly while on the run. He also fingered a member of the State's House of Assembly and a Local Government chairman as his sponsors in the state.
With the din of the crowd growing stronger, the Bakassi Boys did what they had come for.
As quickly as the first shouts had filled the atmosphere, a machete landed on Derico's neck. His severed head rolled onto the ground as blood trooped in spurts from his arteries.
A visibly excited crowd shouted its approval and soon descended into songs in praise of the Bakassi Boys.
It is said that Derico's body was chopped up and set on fire.
This chase and capture of Derico inspired Lancelot Imasuen's 2001 movie, Issakaba described as Nigeria's greatest action film.
The aftermath of Derico's death brought much trouble for the Bakassi Boys. The Police was aggrieved that Derico had been killed despite its calls that he should be transferred to their custody.
Few days after his death, a number of the Bakassi Boys were captured and held by the police for their roles in the mob killing of Derico.
It took the governor's intervention and massive public outcry for the Bakassi Boys to be released and the chapter on Derico's life and death to be closed.
Much can be said about the mob culture in Nigeria, especially as mob killings still continue in 2018.
Depending on which side of the circle you stand on, it also shows the people's mistrust of local law enforcement in a country where detainees are released for the right amount of money and crime hardly ever happens without police complicity.
Even more can be said about Derico and the conditions that influenced his choices.
We can speak of the poverty and the absence of opportunities that was characteristic of any young man in his shoes.
Yet, what we will remember is the terror he unleashed, his daring confidence in his weapons and amulets and mostly, a lack of restraint that put power and the ability to wield it at the centre of his methods.
Stories like this only end in one way.